As I have mentioned before, whenever we experience a change required by our odd summer, we strive to ask, "what is special about this?"
Certainly, there are some adaptations that will not remain after the COVID summer, but we also want to see what changes might become annual traditions.  Over the year, some of our favorite improvements resulted from changes that came less from inspiration than from necessity. 
For example, we think that we will retain the new drop-off system in future summers since they enabled campers to "launch" more happily. 
Also, we have enjoyed having customized programs by age group each night.  Since we do not want to mix cohorts, we have needed to adjust our post-dinner scheduling.  This has been fun because each group is getting an activity that is customized to their age.  We might miss out on the big camp-wide events, but we make sure that the older campers are not bored with a game targeted to the youngest or vice versa.
After the customized activities, we have different configurations for Torchlight, our evening assembly.  At Torchlight, we will have unique combinations of divisions in the audience (with appropriate distancing).  One evening might be the Senior Campers and the youngest campers.  Another might be the 4th -8th graders.  The divisions that do not come to the formal torchlight enjoy a private gathering of their division.
We are seeing days where this has been especially fun at meeting everyone's needs. As a result, we will likely have some more such days in future years than we have in the past.  We do miss the big, camp-wide events, but they will come back next year.
But that does not mean we will have no camp-wide events!  No, indeed.
Tonight, we had "Super Torchlight".  Rather than gather at the coliseum, we went to the field, used a trailer as our stage, and spread the entire camp around the stage. 
The First Ever Field Torchlight.
And your children were there. 
OK, it is not quite like signing the Declaration of Independence, but I do consider it a piece of Camp Champions history.   We also hope that it may become a regular event.
We are telling our campers that they will be able to look back to 2020 and wax nostalgic, "Yes.  I was there for the first ever Field Torchlight.  We wore masks and we had a blast.  They created it for us.  It was cool."  [Note: when I talk to the campers, I do not use terms like "wax nostalgic".   Instead, I say that they will be able to say that they will have future bragging rights.] 
We had a performance from the winners of Sing Song (cabin 3), a counselor skit, a counselor sing-along and the unveiling of the special 2020 t-shirts that we will be giving every camper.  On the front, it says "Camp Champions Spread Camp".  On the back, it says, "Testing Negative, Staying Positive"!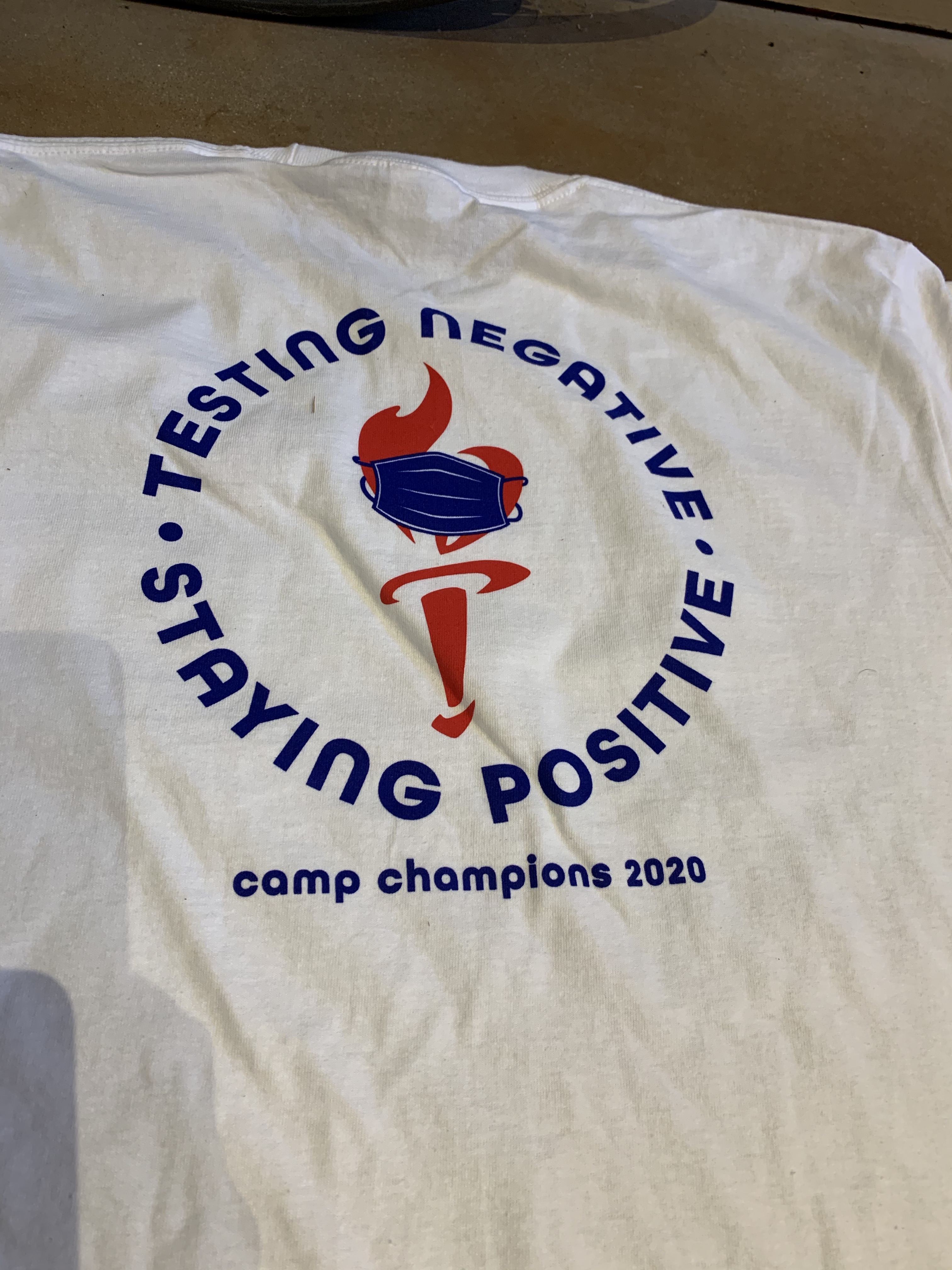 We hope your children enjoy being part of history.
Steve Sir