You have to be a little crazy to be a camp director:
Your schedule is crazy in the summer (7am to 10/11pm every day for 10 weeks)
You end up working mostly with college students who speak a different language and listen to different music [Note: oddly enough, this is not entirely true. For reasons that I do not fully understand, the music of my youth is hip again. At a pool party, the counselors played songs from my high school and college days, including "Take on Me" (A-Ha), "Africa" (Toto), "Don't Stop Believing" (Journey), "Come on Eileen" (Dexy's Midnight Runners), "Beat It" (Michael Jackson), "Love is a Battlefield" (Pat Benatar), "You Make My Dreams", (Hall & Oates), "Never Gonna Give You Up" (Rick Astley), "Eye of the Tiger" (Survivor). Seriously, this is almost silly.]
You will change clothes as often as a runway model. During a three-day period, I wore a kilt, lederhosen, a western frontier outfit (for the Heart of Texas dance), three different swimsuits, a red/blue tie-dye shirt (Trojan Spartan games), a white shirt (Vespers) and a dress shirt for awards campfire. I feel like I am in a game of dress-up.
So there is an aspect of insanity in this job.
It is with that caveat that I will describe Susie Ma'am's particular brand of crazy.
She is a great lover of children and animals. I mean to the extreme.
Lets me share three examples.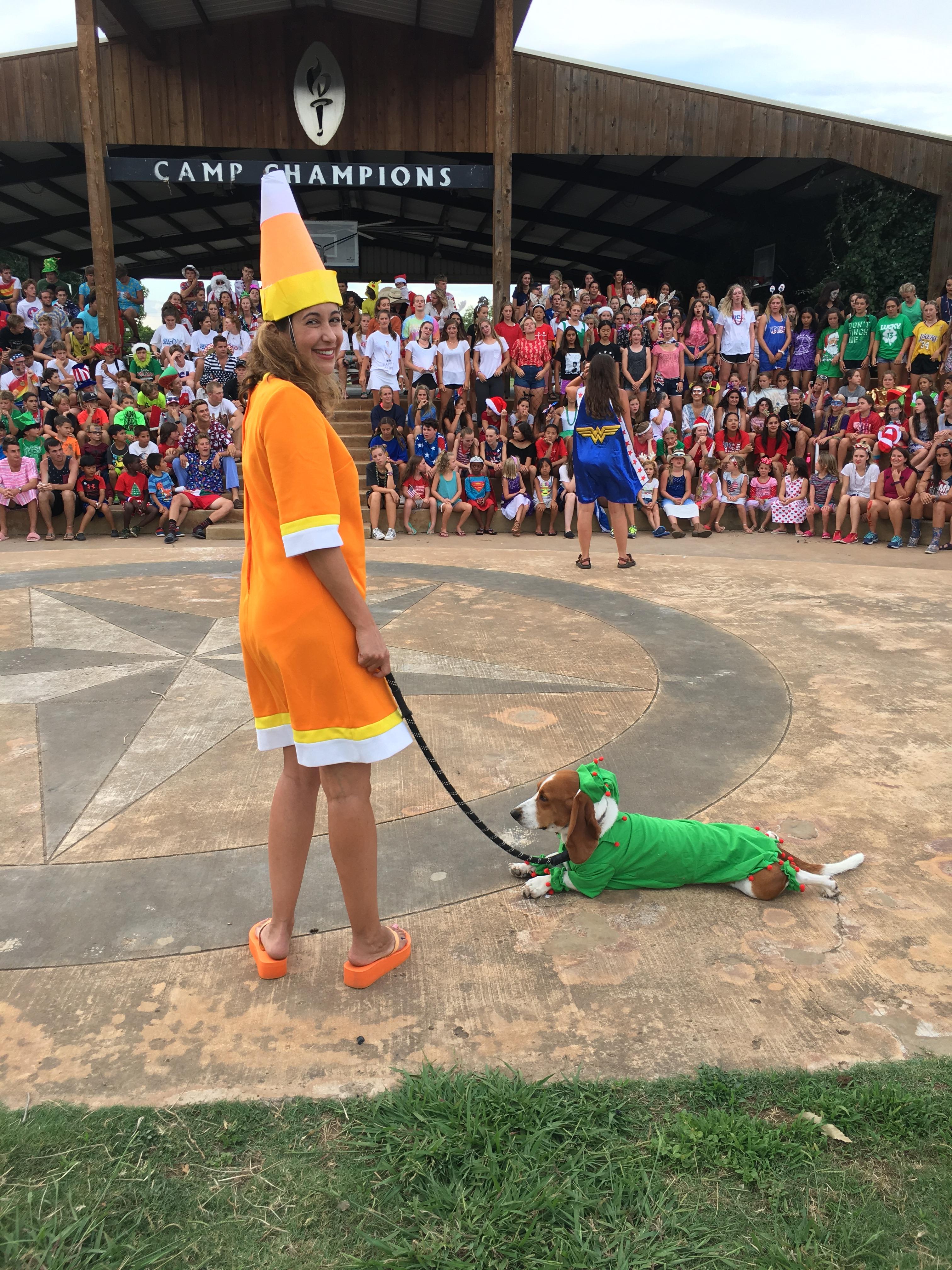 First, she and Dodger Ma'am (our camp basset hound) are almost inseparable. She chooses dance costumes for both appearance AND comfort. In every room in the house that Susie Ma'am might spend a full hour, she has placed some form of dog bed. I think that she loves me more than the Dodger Ma'am, but I am too smart to ask.
Second, she found a bird nest in her golf cart.
Since then, she has modified her golf cart usage to minimize the disruption of the soon-to-be avian family. The only reason that she is using it at all is the fact that she knows that the momma bird does not mind. Susie Ma'am drove the cart for 20 minutes before she noticed the nest. When she returned, she worried that her usage would have driven the mother off, but was delighted to see that the mother bird returned after her eggs' joy-ride.
Finally, she feels sorry for the camp bunnies (Bunny and Clyde). The bunnies are part of our very-popular petting zoo and live in a hutch next to our home. One hot day, she came to me and declared that she had a plan to fix the bunny problem. I, however, was ignorant of any rabbit-related challenge, so I asked her what she was talking about.
"Those poor bunnies have coats and the days are really hot. I bet they are uncomfortable."
At this point, I should make a confession. I had lived this entire summer without thinking about the bunnies. Not once.
But Susie Ma'am had.
So she took action. She took a piece of equipment from the Fillin Station (our dining hall) – a large flat piece of plastic filled with frozen water that line our salad bars to assure that the food stays cool. One of the coolers had a slow leak, so Susie Ma'am decided to repurpose it as a bunny comfort device.
So now the bunnies sit on the blue plastic cooler inside their hutch, living in the lap of luxury.
I share all this for a reason. I want you to know that she loves your children even more than she loves the animals.
So for every protected bird nest or cooled cottontail, there are dozens of camper hugs.
Steve Sir