I initially planned a whimsical blog about the oddity of music selection of the current generation. I was going to point out that last week I heard 12 songs in a row that could have been played at my high school prom – including the Rolling Stones, Van Morrison, Journey, the Beatles, Michael Jackson, Tears for Fears, the Jackson 5, Whitney Houston and even a-ha.
Retro is in.
I guess am retro. I want to think that I am inherently cool, but I must face the sad fact that I am cool only through nostalgia.
But, I have decided to shorten that blog so that I can write about the ways that we are managing the heat this week.
First, please know that we have extensive experience with heat spells. At least once each summer, we have a period where it gets extra hot.
Second, we continue to get a nice breeze off the lake, which cools the camp. It certainly does not make us chilly, but it feels 4-7 degrees cooler on our side of the lake than on the other (or downtown Austin).
Third, experience is a powerful teacher. Over the years, we have learned what activities to modify and which ones to cancel. We make some extra adjustments to our schedule and our program. For example, we avoid mid-day sports and instead spend some extra time in the water.
Here are some of the things we are planning in addition to modifying the schedule:
Vastly increase the number of water breaks
Make Gatorade available to provide both hydration and electrolytes.
Hook up some extra misters around the camp.
Schedule extra activities at the Hearth (our Fine Arts Center), under the Parthenon and in Green Hall. All three have industrial fans, shade and breezes.
Bring Kona Ice (a shaved ice truck) to camp as a special surprise.
Modify Trojan Spartan games so that they are either in the water or thick with sprinklers and hoses. [Note: we are also reminding people to re-apply sunscreen more often as the extra water will wash sunscreen off more rapidly.]
We are shortening Saturday morning's "free choice" period from 4 hours to 3 and adding 1 hour of cabin time for bonding (and cooling).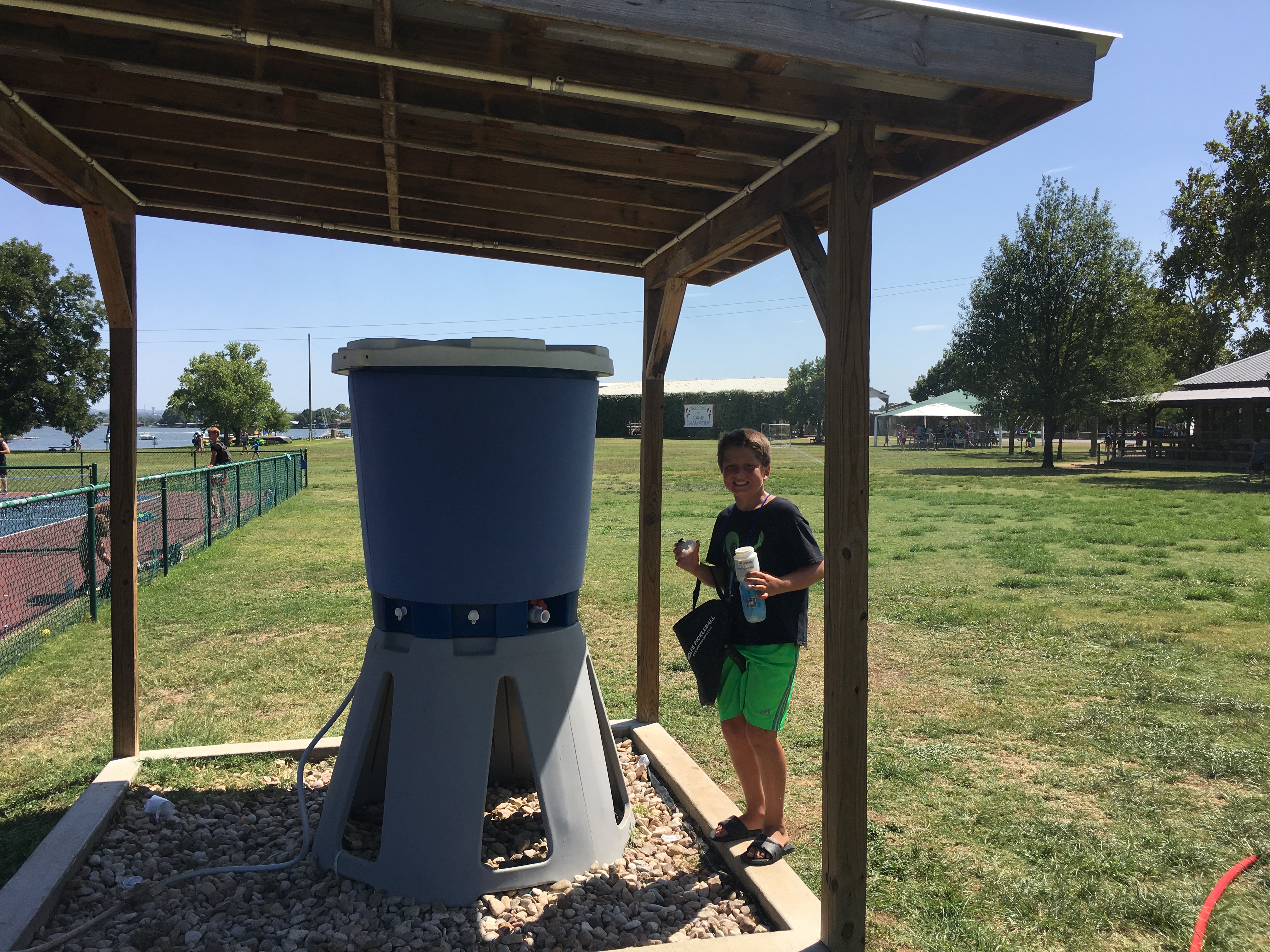 You cannot see it, but this water monster is misting!
Last night at our weekly counselor meeting, we also asked the counselors to redouble their efforts to check for sunburn, rashes, and exhaustion. Once again, this is not anything new – we perform a health check each day. But with the extra heat, we want to be especially diligent.
We are also working on a few other surprises that are less about reducing the heat and more about inspiring some extra smiles and memories.
In short, we have a plan. A little hot weather will not deter us from having fun, making friends and growing!
Steve Sir
PS We have given campers tons of non-outside activities, but they are still playing pickleball.
PPS The photo is from the start of the Purple Peace Dance last night.