Despite my earnest efforts to deny the advances of time, today has managed to remind me that Susie and I are in fact getting older.
I guess I should have suggested that you sit down first, as this might come to you as surprising as it has for me.
The clock and the calendar will ultimately win.
I was downright proud of our 15.6 miles of hiking and 3000 feet of climbing and descending. I felt cocky, thinking , "Yessirree, we are spry and healthy – we can conquer anything!"
I started a conversation with myself. More specifically, I started a conversation with my 25 year-old self. I nodded my head to my younger manifestation, stared into his confident eyes and declared, "You ain't got nothing on me buddy!"
Impressed? If so, you should not be for long.
Luckily, the 25 year-old me did not have to wake in this particular body this morning. He would not have liked it. I know I did not. Were you to watch my efforts to descend the stairs for breakfast, a host of adjectives would have sprung to your mind – slow, methodical, stiff, infirm – but "spry" would not have even made a list of 1000 descriptors.
Even more concerning, Susie tweaked her right knee as we were descending yesterday. Going uphill is hard on the muscles and heart, but descending is brutal on the joints. With almost 2 miles of walking left, Susie felt a twinge in her knee that soon became quite tender. The usual remedies (rest, ice, compression and elevations) were not possible, as we needed to keep walking.
She woke today with her knee still hurting, but she decided to attempt the 12 mile hike scheduled for today. She made the start, which included the family encountering a wonderfully friendly Basset Hound. We are all a little dog-sick and have been missing Dodger (our camp Basset). This fellow came to us when Susie whistled and reveled in our affection.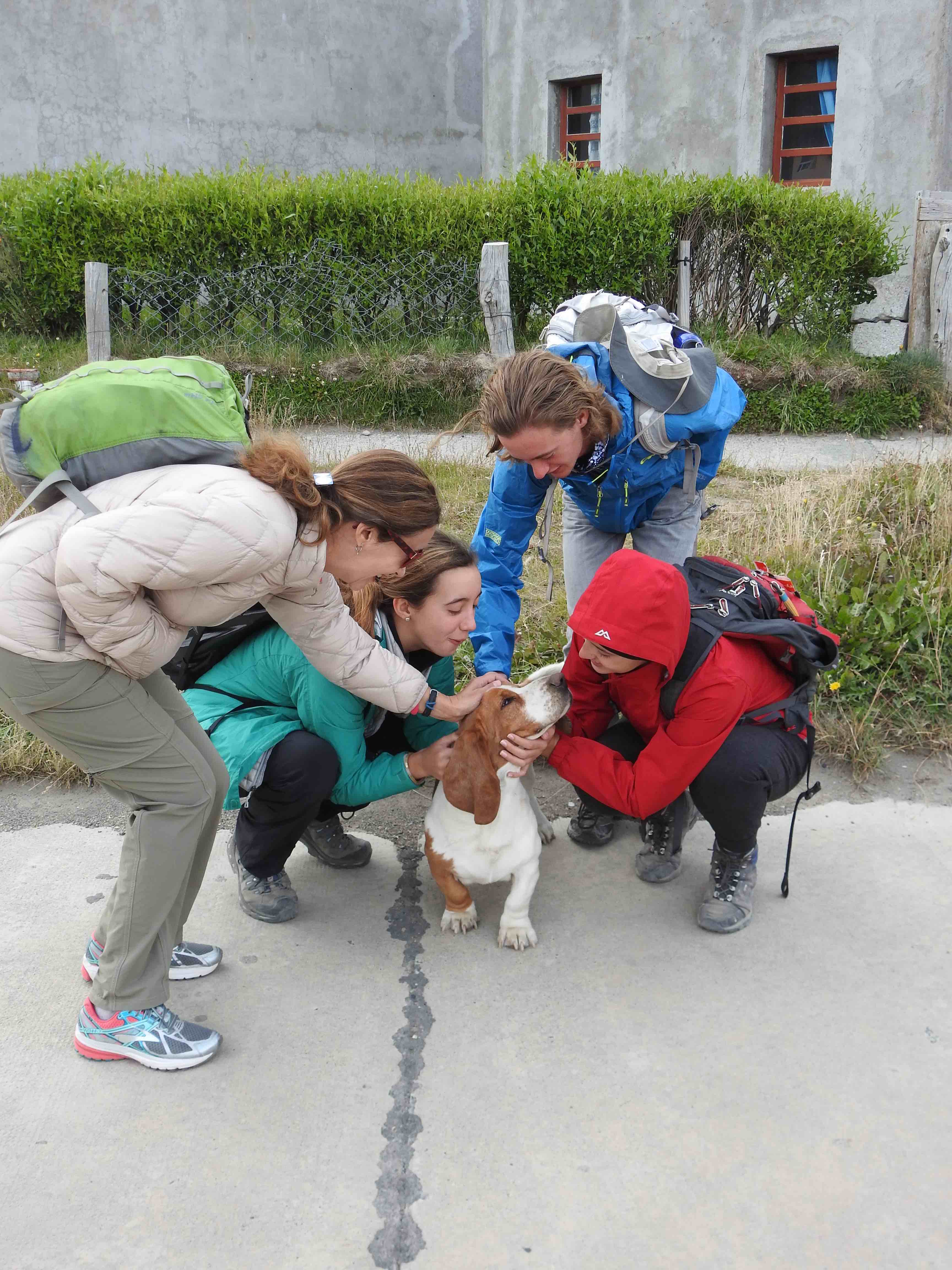 We then started our walk and ascended 1000 feet. Our progress was much slower than yesterday as Susie bravely plowed forward. After we reached a major viewing point 2.5 miles later, she declared that we would return without us. Before she left us, she insisted on a family photo, gave us a hug and headed back down.
Here is the photo.
Our walk again showcased the beauty of this place, but we experienced much more typical weather than yesterday or the day before. Apparently, you generally expect cloud cover in Patagonia. A clear day is worthy of celebration. Since we had two such celebration-worthy days, we had begun to take them for granted.
I guess losing Susie made the weather bad.
We saw some crazy birds, including a fisher-bird that looked like it was one part bird and one part motorboat. We loved this fellow.
I am not sure how to post a blog that is so dependent on photos when I am in a place that has the same connectivity as we all enjoyed with dial-up modems in the late 1990s. I promised to augment these blogs later.
Steve Sir