In our last full day in Tokyo, I feel like we got a sampling of all the things I have already told you about.  We got some culture and some costumes. 
Today is Sunday. On this day, many things seemed to happen. There was a fall festival at a Shinto shrine we walked by, making this a special day to get a blessing or to get married.
But today is also the Halloween parade. It was more of a costumed stroll with a few odd additions.
Every time we arrived at a spot, something interesting was happening at that moment. We came upon this couple just after they were married.
We came upon the parade by accident 5 minutes before its beginning.
We saw lots of people sharing their dogs (including some that apparently recently broke out of jail).
This guy let children play with his portable pets.
We even drove by a car dealership as a potential SUV buyer tested the climbing ability of this vehicle.
Since this is a bonus blog, I want to share more pictures than thoughts.
We left the shrine and came upon the parade almost immediately. Doing so, I could not help but see the similarities of these two pictures.
In them, we see parents holding the hands of their children. Both adults and children are wearing a form of a costume. While the purpose of their attire could not be more different, in both cases you could sense the deep parental love for their children.
[Note: Susie told me that there are more Japanese over 75 than there are under 14! This number staggered me. Of course, it is the exact opposite of Rwanda and Tanzania, where the countries hope to reduce fertility. Here, they population is aging and shrinking, creating great concern for their future.]
The highlights of the parade were the three musical additions.
They had a marching band that played "Zip-a-dee-doo-dah" and the theme from "Indiana Jones" quite well.
They had a bagpipe band that played not so well.  This was not an image I expected to see.
And they had a Latin drum corp with dancers and jubilation called the "Amigos Calientes" (the hot friends). They were having so much fun that it was simply contagious.  Their part of the parade felt like Carnival in Rio.
The costumes were fun . . . and odd.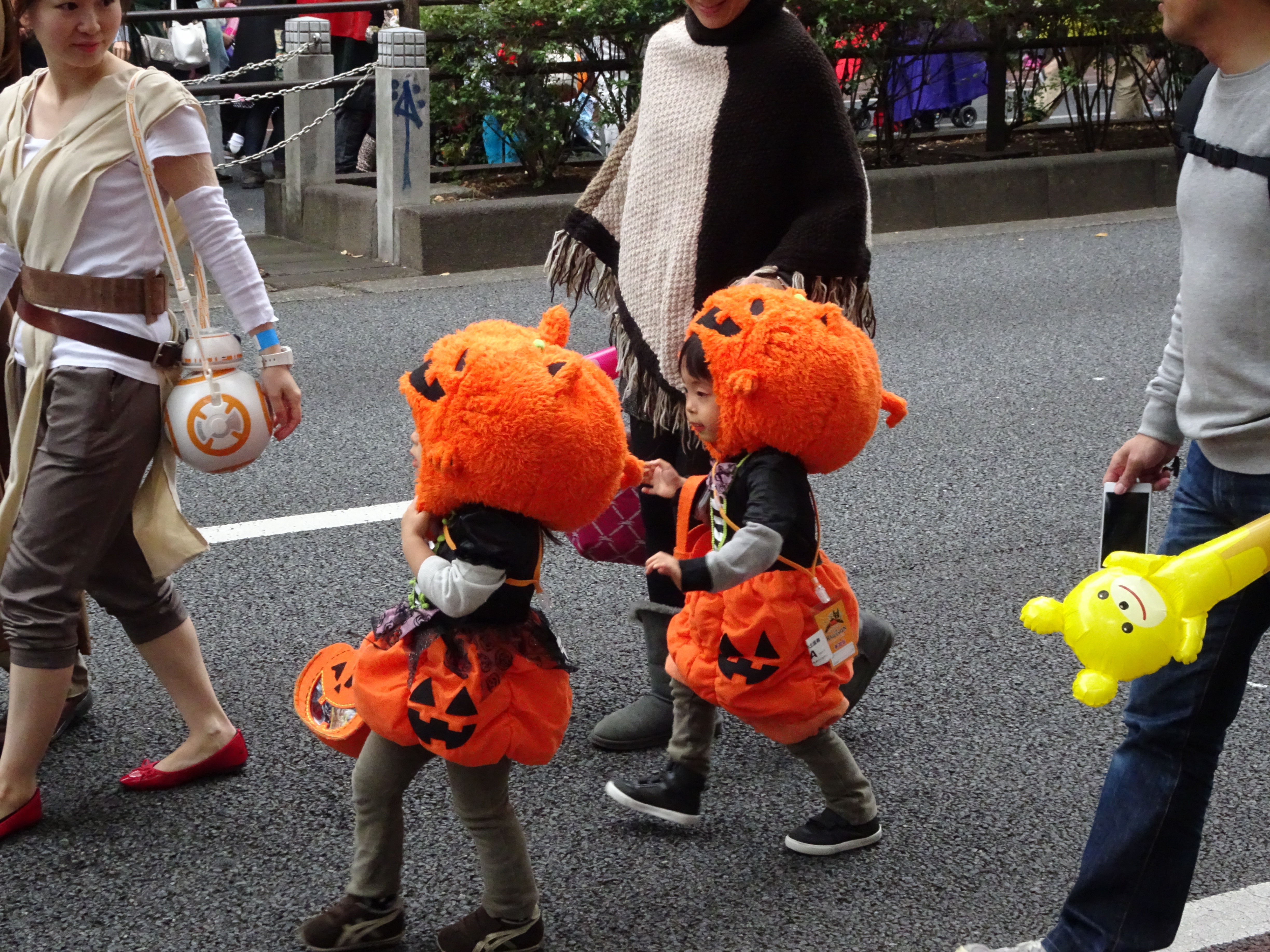 I love the moustache on the baby.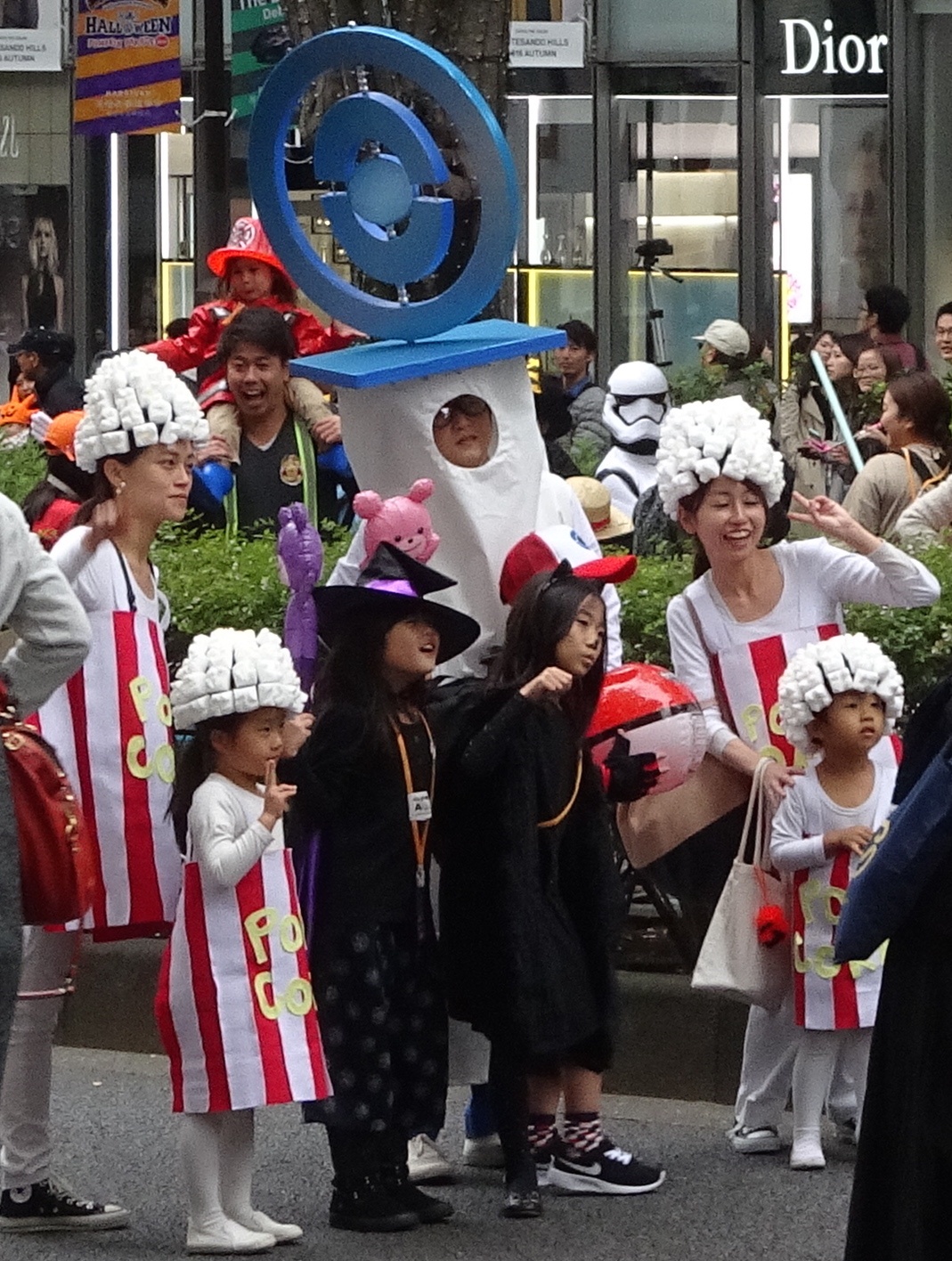 Popcorn and a PokeStop.  I worry that this guy is missing the real fun.
Our final costumes will come curtesy of the shrine rather than the parade.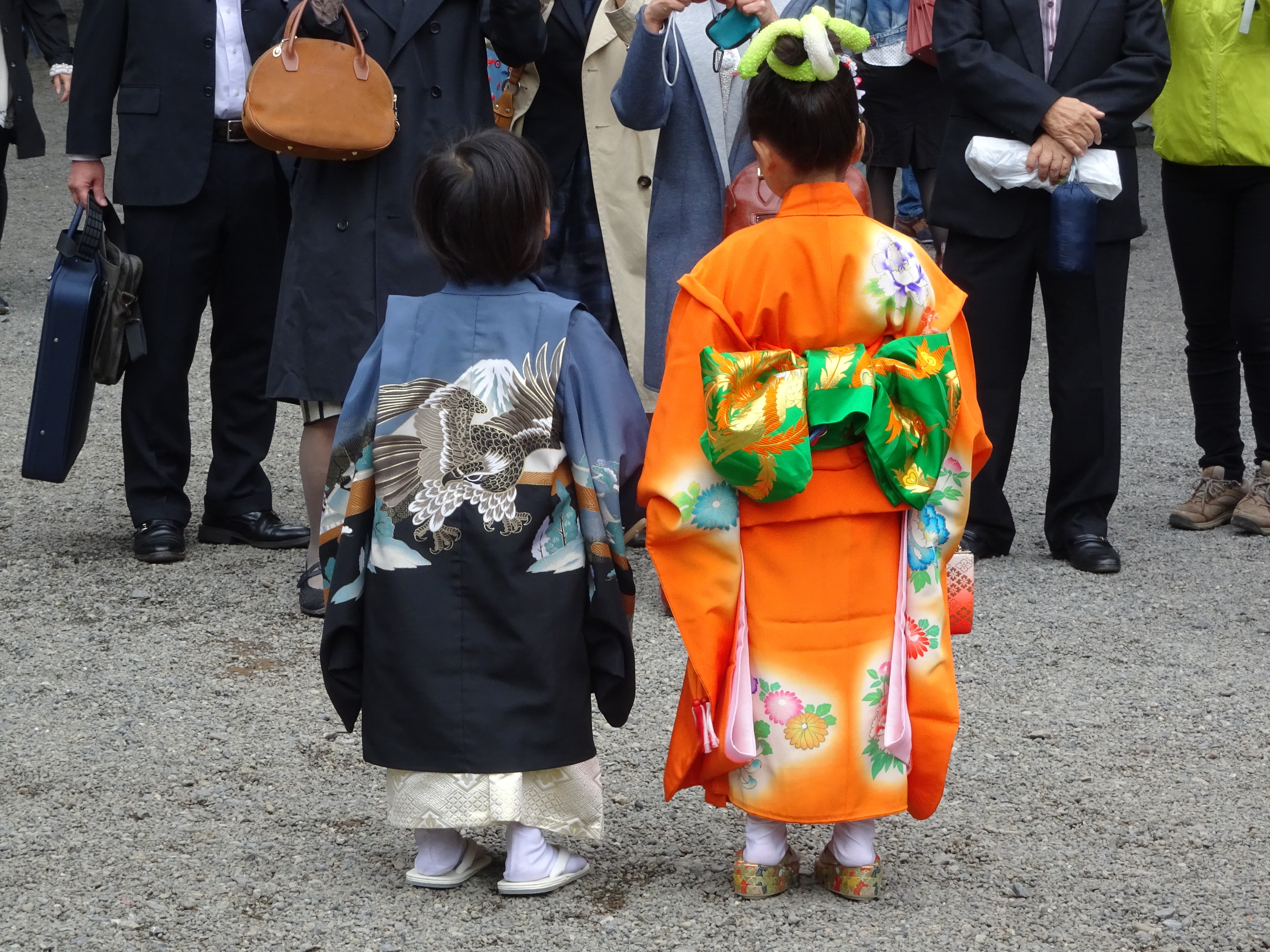 The day is not even over. In fact, it is just 5PM. How do I know? Every city in Japan plays music at 5Pm to let everyone know the time. Altus thinks it was created to let the children know it is time to go home to dinner. But I doubt we will do much more today as we plan to make this an early night. We leave for Ese tomorrow.
Steve Sir