As you might guess, we spend a lot of time thinking about special activities.  In addition to the 35+ activities during the day, we also create evening programming and special event programming.
I imagine each of you has planned and hosted a birthday party. You had to think through themes, costumes, decorations, food and supervision. It can be pretty hectic and crazy.
Now imagine planning that party for over 300 people.
This can be quite the logistical challenge, especially since you need to plan some party almost every day.
To make it trickier, you cannot roll out the same activities each session.  If the counselors are doing the same event every 2-3 weeks, it will stop being a "special" event and become a burden.  Let me share an example.
Roughly a decade ago, we had our first Caveman Meal. At this meal, the tables are covered in paper and the food is all eaten with hands.  Admittedly, this meal is not the favorite with the 13 year-old girls who would prefer a salad to ribs and turkey legs.  But if you are an 8 year-old boy, you take off your shirt, grunt like a caveman and you are in heaven.
When we did our first Caveman Meal, the guy counselors were completely into it.  They channeled their inner Cro-Magnon, moving in an apish way and beating their chests. They were just as delighted as the little guys.  Three weeks later, we did it again.  This time, the counselors were far more sedate with the event.  They did more eating and less grunting.  [Note: in virtually all eating environments, "more eating and less grunting" is a positive.  This meal stands as the possible exception.]  By the third session, the counselors were (to use their parlance) "over it". They sat and ate. If there were hunched, it was from boredom rather than simian simulation.
We learned that year to vary the special meals, dance themes and evening events so that the campers get the benefit of enthusiastic counselors.  As a result, we have to plan substantially more of these huge "birthday parties" than most camps would.
[Second note: this tendency to tire of activities applies to special events rather than the daily activities. In the case of special events, novelty and excitement are the keys.  In the case of daily activities, mastery and instruction are the most important aspects. Counselors teach the activities that they are passionate about and they love to share their knowledge and skill in outdoor education or waterskiing or what have you. As a result, a counselor can view teaching skiing for 6 hours as an opportunity to inspire, but the second chance to be a caveman does little to excite.]
On Monday night, we had Safari. Safari is a winner activity for the end of the first full day because it allows campers to run around, have fun and tire themselves. We want the camp to be on the same schedule as soon as possible, so we want them tired at the same time. Some campers go to bed much later at home than others.  But varying schedules is not conducive to camp.  Instead, we want each age group to share the same bedtime.  In the case of the youngest campers (the boys and girls age 7-9), lights-out is between 9:20 and 9:45.  The middle group (generally 10-12 year-olds) must be in their cabins at this time, but usually go to sleep 20-30 minutes later, with 10PM being the latest. The oldest normal campers (13-14) will be up another 15-30 minutes. 
Having a run-around game helps assure that the campers are ready for bedtime once it comes around.
Of course, the run around game also needs to be fun.   
In Safari, counselors dress and paint up as animals that either run (tigers, giraffes, elephants) or hide (monkeys, sloths). Cabins split into two team of 5-6 who then attempt to catch/find the animals for points.  The teams must run while each camper holds the same rope.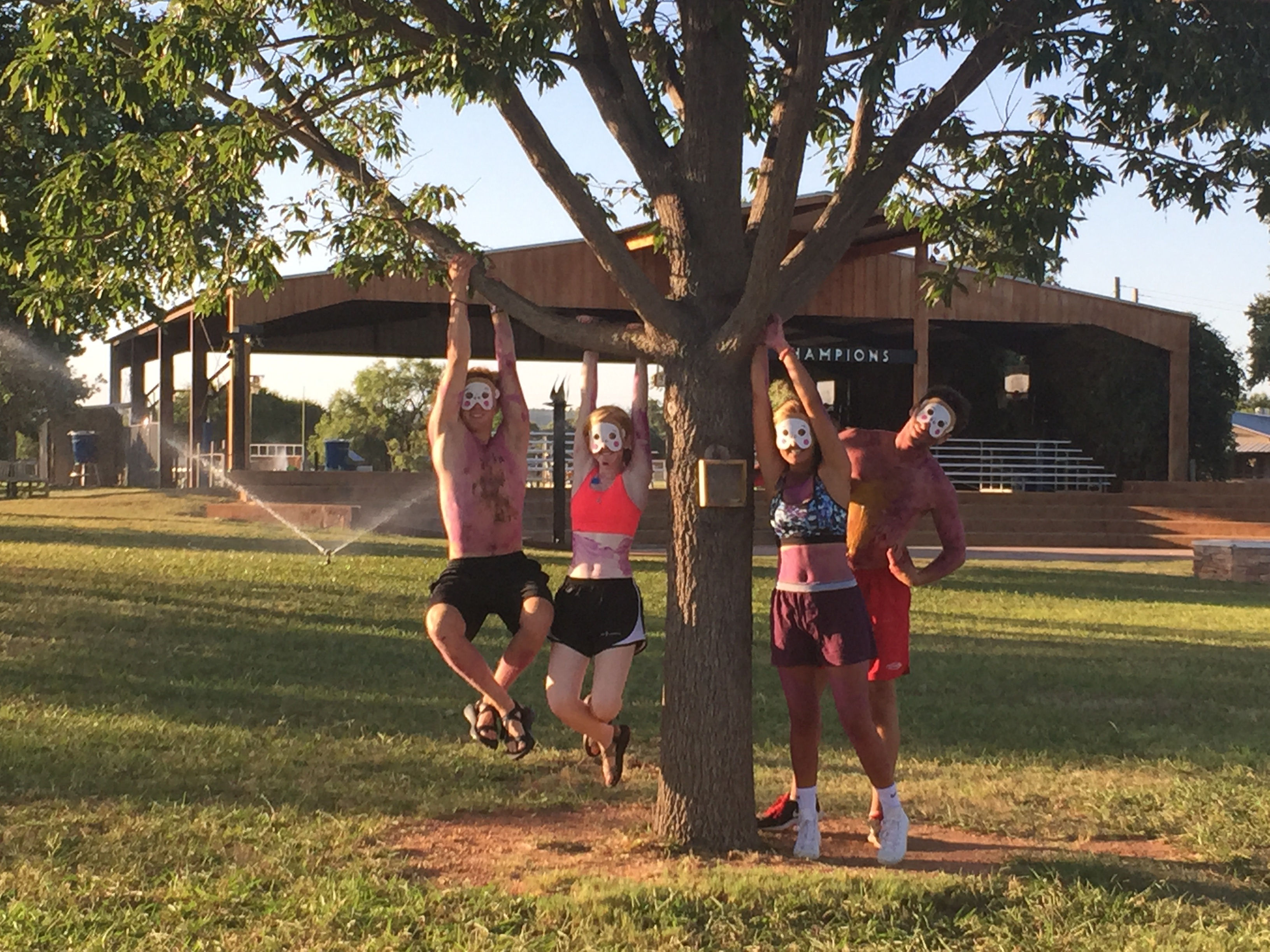 The animals vary their catchability based on the age of the campers.  If a cabin has 12 year olds, the animals are far faster than if it has 8 year-olds.   In this way, usually one of the two winning teams is a young cabin while another might be an older one.
I get to drive in a golf cart as if on Safari.
I especially love this game because of the color. Since it is in the hour before sunset, everything is a richer hue.  With all the counselors painted, this makes for a visual feast that any observer would love.
Steve Sir
Want more like this? See: http://blog.campchampions.com/a-truly-special-day