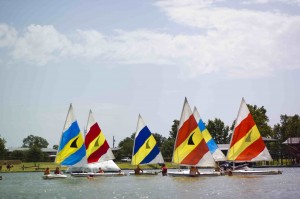 People frequently ask camp professionals, "what do you do the rest of the year?"  The question often seems to suggest that we spend our days on tropical beaches sipping lemonade and waiting for the sun to set.
The truth could not be farther from this image.  At Camp Champions, we encourage everyone to take a good vacation, but once back we tend to spend our time in five areas:
Program development – How can we improve existing activities and add new ones?
Facility projects – What can we do to improve the site to serve our campers better?
Counselor recruiting – Finding those great individuals who want to serve with us.
Camper recruiting – Educating families about what we are doing at Camp Champions.
Staff training and development.
I wanted to take a moment to tell you about this final item: staff development and training.  In a previous article, I describe our 2-week counselor orientation program.  While this is perhaps the most intense period of training, it is only a portion of our total staff development program.
Attending Conferences.  Each year, we attend between 6 and 8 camp conferences.  These range from a 1-day meeting of Texas camps to a 4-day conference in the New York area.  All in all, we spend over 75 staff-days at these events.  "What happens at a camp conference?" we hear you ask.  We attend these because they enable us to interact with other camp professionals and learn what the best practices are.  These conferences also have educational sessions ranging from "what to do on a rainy day" to "best practices for your health center" to "dealing effectively with 13 year old girls".  One conference offers over 225 sessions.
Speaking at Conferences.  In addition to attending the conferences, we often speak as well.  For example, I have presented on subjects like "Uncompromising Leadership" and "Creating Your Camp Culture".  Susie and I spoke on working with your spouse.  We have given over 25 speeches in the past 15 years at camp conferences along – with 4 this past year alone.
Other Speaking Engagements.  Last year, we traveled with Dr Michael Thompson for a three day speaking tour about summer camp and youth development.  Steve Sir spoke on parenting at a TEDx conference, for 2 preschool associations, at 3 private schools (Parish Episcopal, TMI, and Trinity of Midland) and at his 20th Harvard reunion.
Serving on the ACA Board For the past 3 years, Steve Sir has been the Treasurer of the American Camp Association and a member of its Executive Committee, chairing the Finance Committee and serving on the board of the American Camp Foundation.  He has passed the Treasurer torch, but continues to serve on the National Board.
Senior Staff Retreats.  Twice during the year, we bring all of our senior staff (full-time employees plus the 6-10 other members of the summer leadership team) together for training and planning.  During these retreats, one during the spring and one directly before counselor orientation, we discuss the needs of camp and our opportunities for improvement.
Individual Training.  We also provide training opportunities to individuals.  We have funded courses as varied as "Developing Organizational Systems" to "The Advanced Camp Directors Course".
Reading.  Each of us is passionate about what we do, so we all spend much of our spare time reading up on camp and youth development.
Steve Sir