We had a very eventful day, and it is only half over.  Susie and the girls are dying to return to the carnivorous feet fish and we all want to return to the blues bar.
Luckily, for the second day in a row, the story is better told with photos than words.
Today we went to Tiger Kingdom.  This organization has carved out a unique and (well-deserved) niche in the Chiang Mai tourist world.  They house a vast array of tigers and allow ill-advised travelers like your humble narrator a chance to pet, lie on and hang out with tigers.
"What size tigers, Steve Sir?"
I am so glad you asked.  In fact, you can choose the size of tiger that you want to spend time with, ranging form 4 months olds to 500 pound adults.  They have 4 increments of sizes.
"But they surely drug these beasts."
I was absolutely certain that they must when I first read about their experiences.  I then went to a website that insisted emphatically that they do not drug or abuse their tigers (and single lion, hence the title of the blog after the bears the other day). I was still uncertain about the drug issue until we arrived.
We arrived early, 30 minutes before the place even opened.  As anyone from Camp Champions knows, I am a unapologetic tiger lover.  Tigers are part of our camp mythology - we talk about the "tiger within every camper" as recognizing the unique aspect of each child.  As a child, I used to stare at the tigers at zoos until I was dragged away.  Susie grew up with dogs, but the Silver Fox and the Baskin crew always featured really cool cats.  And tigers are like the coolest cats of all - bigger, beautiful, regal, graceful and just BIG.  From the stripes to the ridiculously big feet, they have been the gold standard of animals for me.
Since we arrived early, they suggested that we walk around to see what cages we might want to visit.  No one else was there, so we spent 15 minutes just watching the "big" tigers in their enclosure.  Here is what we saw:
Less than 30 minutes later, this happened.
Later in the day, these same guys would be doing this.
As exciting as this was, the smaller cats brought the greatest joy.
Here is a "medium" fellow that Liam used as a pillow.  He is a yearling that weighs around 175.
I rubbed Lulu's belly.
We all laid on some tigers.  On some occasions, we heard their heart.  Others, we heard purring.  The most distressing was hearing digestive fluids from one of the big guys . . .
We spent the most time with the "small" tigers.  These are less than 8 months old and weigh between 80 and 100.
The girls spent time with Kellogg, Metro, Catai and Masai.
We went into the same cage together.  Each had our moments to pose and play with the tigers.  Wiley was doing some belly rubbing when Chicken got frisky.
Sister Fish seemed more relaxed with Virginia.
Here is a happy crew.
The whole gang with Chicken.
Susie flirted with Metro (yes, apparently there are two Metros).
The absolute highpoint was the little ones.  We fell in love with 4 month old Winter (boy) and Angel (girl).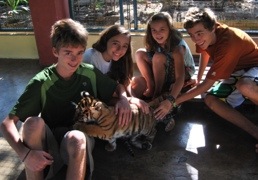 Susie and I are thinking about new bedding.
Meanwhile, the kids were falling in love.
The tigers could even bring peace between Virginia and Liam.
Not only were we upset to leave this pair, Angel registered her protest as we rose to leave.
I'll leave you with this nice shot of Terrill and Angel.
Off to have the flesh eaten from our feet and ankles.  I guess tigers are not enough excitement for one day!
Steve Sie