Before I tell you about our culinary education today, I feel a need to add an addendum to yesterday's blog.  As you may recall, we spent the day with tigers following a day with elephants.  But there is more.
I feel like I have put my son in harm's way.
Wiley has had a trying 2 days.   At the elephants, he developed a lower intestinal issue that kept him from part of our ride yesterday.   He started to feel ill at lunch.  After lunch, he got on his elephant, turned a shade I will describe as a light pistachio and decided to dismount (not an easy task when you are ailing).  He spent the next hour lying still and awaiting our return.
Today, we went to the tigers and he got hit by a Tiger named Chicken (isn't that a Johnny Cash song?) during some loving play.  He was fine.
During this trip, we have eaten street food, crossed roads with no traffic lights and climbed slippery, steep hills – all in countries that do not speak our tongue.
But nothing prepared Wiley for the horrors of today.
No, it was not the tigers or the intestinal struggles.
Let me show you the aftermath.
Yes, it was a bloodbath.  Here is the culprit.
Yes, Wiley has survived the trials of Asia and the most impressive of mammals, but was hobbled by one inch fish.  Wiley and Liam passed on the first fish pedicure where Garra fish eat the "extra" skin off your feet and legs.  When I wondered in a previous blog how the fish know what is "extra", I did not realize I had asked a relatively profound question.
On our return to the fish place, the boys decided to join after hearing the reviews from us.  Since the reviews ranged from "so relaxing" to "dude, this will freak you out!", the boys could not resist.
We did everything that the fish spa asked us to – leave shoes, clean our feet, rigorously wash off sunscreen and bug repellant.
We were there 45 minutes.  At the end, we learned that the fish sometimes improvise and go after skin that is not really all that extra.
Like a scab.
Like the rest of us, Wiley plunged his feet into his tank, became startled when the carnivorous swimmers attacked and settled in thereafter.  He was on a computer (the combine the treatment with "free" internet) and happy, until about 5 minutes passed.
"Hey, they are checking out my scab."  He had fallen on New Years Eve in Laos as we were on a beach.
"Hey, they REALLY like my scab.  It kinda hurts."
Perhaps we have traveled too long, because I no longer react excitedly at comments like this.  If he had said "it hurts, it hurts" and pulled his leg out, we would have come running.  But "it kinda hurts" does not register.  A few minutes later, I heard him say something that suggested that "I am trying to cover the scab with my hand but they are going between my fingers to get to the scab", but I once again heard no urgency.
When he came out of the tank, we saw the cut.  The fish were as good at taking off the scab as his body was at coagulating.  Even more impressive, the tank that he had been in was no longer clear.  It was an odd shade.  I would describe it as an light eggplant.  [Note: if you look at the picture, you can see the tank I used to the left of his wound and the tank he used above his foot.] I do not know how much blood is required to make 10 gallons of clear water that shade, but it is more than I would have contributed to the fish.
I learned a few things.
Wiley is tougher that I had thought.
It takes 3 changes of a water tank to remove the discoloration (or so the Burmese worker told us).
The spa needs an additional warning sign: something like the following: "This experience will excite and invigorate you, unless you are nursing an open wound.  In this particular case, you risk exsanguination" - or something to that degree.
To his credit, he is up for another visit.  We might just wrapped it, or bring a few units of O-Negative blood.
Cultivating Our Culinary Crafts
Today, we went to an all-day culinary class.  We also went to a wonderful one in Shanghai, but this one was different.  It was not as private (we shared it with 6 other people) and we did not shop in a market.  Instead, we rode a tuk-tuk to the train, took the train to another town, rode bikes to a farm and gathered some of our own herbs.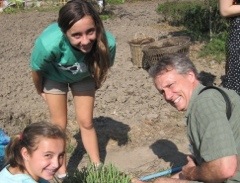 We each chose 6 items (a soup, an appetizer, a stir-fry, a curry, a curry dish and a dessert) and we learned how to cook Thai.  Our instructor, named "Oy", did a nice job of explaining Thai culinary theory.  Thai cooking has many variations, but they all stem from a limited number of themes.  Most soups have the same process and similar ingredients.  Curries all start with 80% the same ingredients that are prepared in a mortar and pestle.
Here is our class.
We got to try everyone's creations.  Some were "Thai hot", including one of Wiley's.   Here is me dealing with the after-effects of 3 spoonfuls:
The entire day was leisurely.  We cooked, ate, chatted and cooked some more.  The lovely, lazy Thai pace was soothing.
Until we were working on our curry dish.  Oy suddenly told us that our train (a 10 minute bike ride away) would be leaving in 22 minutes, "but OK, please make sure your sauce thickens."
This took a little out of the pure relaxation of the event.  We cooked quickly, wolfed our food, hopped on bikes and got to the train. Have you ever stuffed yourself with a five course meal featuring furnace-hot food and then tried to exercise?  Let me simply predict that this will not be the next fitness fad.
Before I conclude, I should mention one other aspect of the experience that made it special. We met a couple from Germany that just finished graduate school and were traveling before exploring the job market.  They were fun, bright and engaging with all of us.  We wish Pia and Alex a great trip to Laos and beyond!
I should also note that we had a Canadian on the trip that reminds me of the scene from Annie Hall when Woody Allen struggles with the loud, self-assured man in a movie line with him.  Like the person in the movie, this fellow was loud and (as my dad used to say) "often wrong, but never in doubt.  Even Wiley noticed.  "Does he know what he sounds like?"
Tomorrow is our last day in Thailand.  We will miss the country, especially Chiang Mia.  I hope they do not notice the tiger cub and elephant calf we have with us!
Steve Sir